What is Purgatory?
Los que mueren en la gracia y en la amistad de Dios, pero imperfectamente purificados, pasan después de su muerte por una purificación, para obtener la holiness necesaria y entrar en la alegría del cielo. The Church calls this final purification of the elect "purgatory".The punishment of the damned is completely different from the punishment of the damned, although it is certain of their eternal salvation.
This teaching is also supported by the practice of the prayer for the deceased and eventual plenary indulgences. of which the Scripture already speaks: "Therefore he [Judas Maccabeus] commanded to make this atoning sacrifice for the dead, that they might be freed from sin". 2 M 12, 46
Pope Benedict XVI, in 2011, explained that el purgatorio es un estado temporal that the person goes through after death while atoning for his sins. Purgatory is never eternal; the doctrine of the Church indicates that all souls gain access to Heaven.
"Purgatory is not an element of the bowels of the Earth, it is not an external fire, but an internal one. It is the fire that purifies souls on the path to full union with God," the Pope affirmed."

Pope Benedict XVI at the Wednesday public audience in 2011.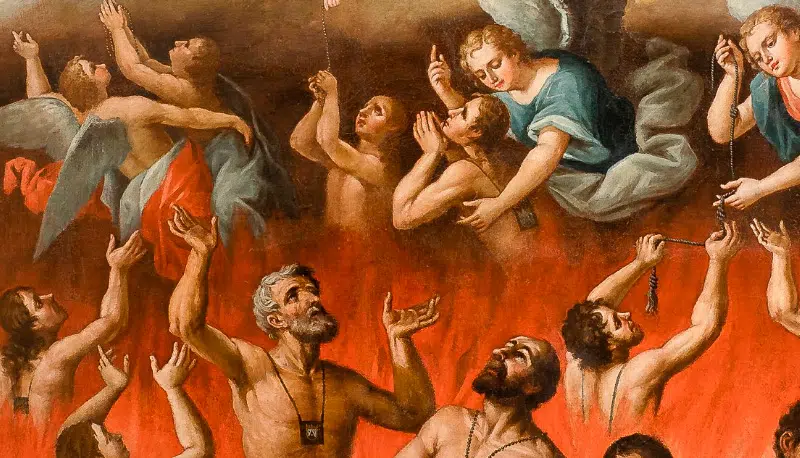 What are the origins of Purgatory?
The etymological origin of the term purgatory comes from the Latin "purgatorium", which can be translated as "that purifies" and which derives, in turn, from the verb "purgare", equivalent to cleanse or purify. And although the word Purgatory does not appear literally in the Bible, its concept does appear.
St. Catherine spoke of Purgatory
Este mismo día el Santo Padre, resalto la figura de santa Catalina de Génova (1447-1510), conocida por su visión sobre el purgatorio. La santa no parte del más allá para contar los tormentos del purgatorio e indicar después el camino de la purificación o la conversión, sino que parte de la "inner experience of man on his way to eternity".
Benedicto XVI añadió que el alma se presenta ante Dios aún ligada a los deseos y a la pena que derivan del sin y que eso le imposibilita gozar de la visión de Dios y que es el love of God por los hombres el que la purifica of the dregs of sin.
Jesus spoke of Purgatory
En el sermón de la montaña nuestro Jesus les muestra a quien lo escucha, lo que nos espera después de la muerte como consecuencia de sus acciones en vida. Comienza con las beatitudes. Avisa a los fariseos que no entrarán al Reino de los cielos y finalmente menciona las palabras recogidas en el Evangelio de Mateo:
"Be at once on good terms with your adversary as you go with him by the way; lest your adversary deliver you to the judge, and the judge deliver you to the guard, and you be put in prison. I assure you: you will not get out of there until you have paid every penny." Matthew 5:25-26
St. Paul spoke of Purgatory
In his first letter to the Corinthians, St. Paul speaks about the personal judgment of those who have faith in Jesus Christ and his doctrine. They are people who have attained salvation, but they must go through the fire so that their works may be tested. Some works will be so good that they will receive immediate reward; on the other hand, others will "suffer harm" but will still "be saved". This is precisely what purgatory is, a purification that some will need in order to fully enjoy eternal friendship with God.:
"For no one can lay any foundation other than the one already laid, Jesus Christ. And if one builds on this foundation with gold, silver, precious stones, wood, hay, straw, each one's work will be uncovered; it will be revealed by the Day, which is to be revealed by fire. And the quality of every man's work shall be uncovered; it shall be made manifest by the Day, which shall be revealed by fire. And the quality of every man's work shall be tested by fire. He whose work, built on the foundation, endures, will receive the reward. But he whose work is burned shall suffer harm. He, however, shall be safe, but as one passing through the fire."

1 Corinthians 3:11-15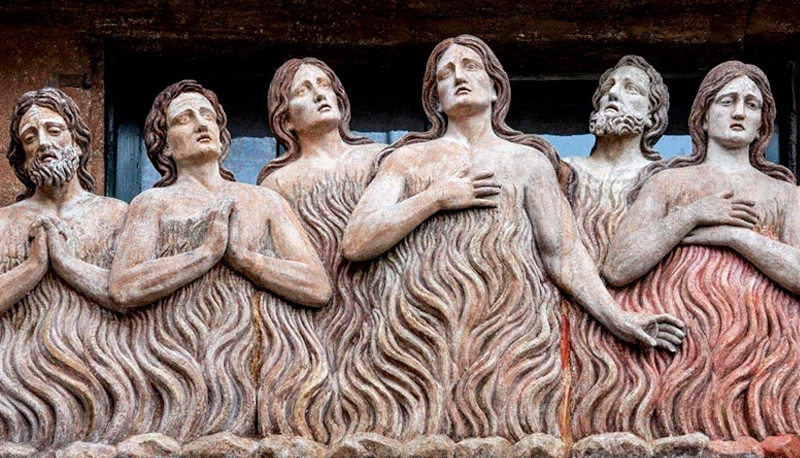 "El purgatorio es una mercy de Dios, para limpiar los defectos de los que desean identificarse con El."

San José María Escriba de Balaguer, Surco, 889
There are many reasons to believe in Purgatory
As we have seen, it is a teaching based on the Word of God: We call this reality that Holy Scripture shows us purgatory, which is the same as purification.
En el cielo no entrará nada manchado. Quien es fiel a Dios, pero no se encuentra en un estado de gracia plena a la hora de morir, no puede disfrutar del cielo porque la misma Biblia dice que en la ciudad celestial: "No entrará nada manchado (impuro)" Ap 21,27
Since the first centuries Christians have believed in its existence: Purgatory as a temporary state of purification was believed from the beginning by the first Christians, "Fathers of the Church" who stood out for their faith and holiness. Tertuliano: "Nosotros ofrecemos sacrificios por los muertos..." Año 307. Lactancio: "El justo cuyos pecados permanecieron será atraído por el fuego (purificación)..." Año 386. Juan Crisóstomo: "No debemos dudar que nuestras ofrendas por los muertos les lleven un cierto consuelo...". Año 580. Gregory the GreatIn the case of certain light faults, it is necessary to believe that, before the judgment, there is a purifying fire...".